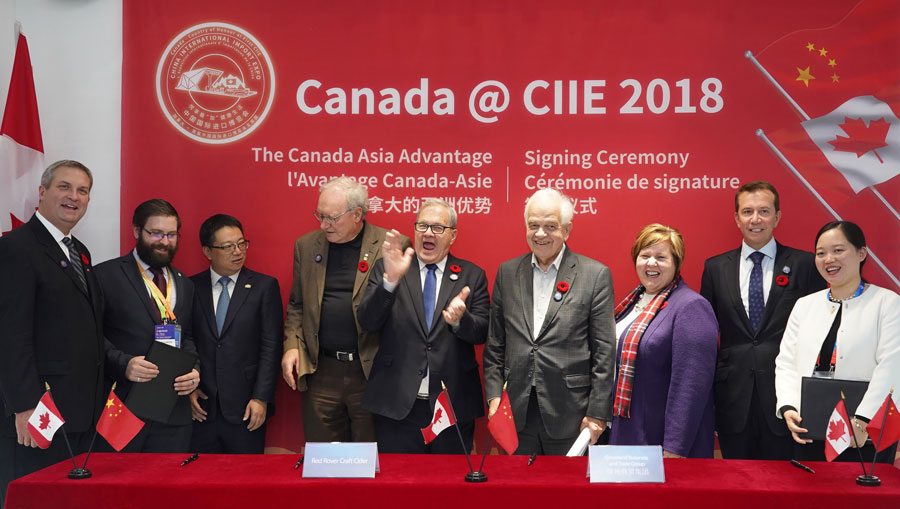 Lawrence MacAulay (center), Canada's minister for agriculture and agri-food, applauds the signing of agriculture and healthcare business agreements at the China International Import Expo in Shanghai. [Photo by Gao Erqiang/China Daily]



Canada is keen to cash in on the opening-up measures in China's agriculture sector and plans to increase exports to the country, a top Canadian official said on Friday.
Speaking at the China International Import Expo in Shanghai, Lawrence MacAulay, Canada's minister for agriculture and agri-food, said he sees great potential for high-quality agricultural products from his country in China.
The minister's comments came after companies from the two countries signed 14 business agreements in agriculture and healthcare at the Canada pavilion on Friday.
"We are continuously working with the Chinese government and the Chinese people. We know we have top-quality and safe food and we know that the Chinese consumers love such products. That is why we were pleased to hear President Xi Jinping saying that China will open its doors wider. We are going to take advantage of China's further opening-up."
Canada is working with the Chinese government to lower tariffs for agricultural products so as to boost exports, he said.
"The China International Import Expo brings people to Shanghai. It is a good occasion to deepen our relations further," MacAulay said.
Thomas Lin, president of China Affairs for the Association of Certified Professional Nutritionists in Canada, said his association has signed cooperation agreements with three companies in China. "We plan to build training centers with our Chinese partners and train 5,000 certified nutritionists for China that meet Canadian standards over the next few years," he said.
This could reduce the gap between supply and demand for professional nutritionists in China, he said.
"Professional nutritionists can provide professional advice to Chinese people so they can make the right decisions when choosing nutrition products to improve their health," he said.
Polly Zhao, Canada Beef International Institute's chief representative for China, said the institute signed a memorandum of understanding with Million Group, which is owned by Shanghai-based Bright Food Co, under which the two have agreed to promote Canadian beef in the Chinese market.